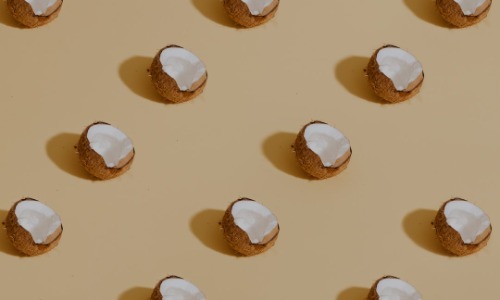 9 Coconut-free Shampoos (that are really coconut-free)
Have you scoured the internet for "coconut free shampoo" only to be disappointed when you see the recommendations' ingredients lists contain coconut derivatives? Same. It's a real bummer. That's why we have filtered through those articles and other webistes to feature a few coconut-free shampoos that don't contain coconut oil nor its derivatives.
Are coconut-free shampoos right for me?
There are a few reasons for avoiding coconut in hair care products. The most obvious reason is an intolerance or allergy to coconut. For people with this issue, it is a good idea to educate yourself on how to read ingredients lists so you can identify the ones that are most often made from coconut.
If you'd like to skip that work, check out all our recommendations to find more coconut-free products.
Now for some people, having a shampoo that simply doesn't contain coconut oil (cocos nucifera oil) is sufficient. While coconut oil can be a quick fix for making hair look more hydrated, it can obstruct all other treatments from penetrating the hair. Thus in the long term your hair isn't benefiting from the products you spend good money on to make it healthy.
Overall if your hair is coarse, dry, damaged, weak, easily broken – or if you're prone to dandruff – your hair will appreciate a coconut-free shampoo.
6 Coconut-Free Shampoos
Shampoo for Sensitive Itchy Dry Scalp
Nature Sustained's concentrated coconut-free shampoo is made from raw ingredients that are fermented instead of processed with heat. The lather of the shampoo comes from soap nuts that are harvested in Thailand. (If you have a latex allergy, it may be best to avoid soap nuts.)
Most that use this shampoo love that it doesn't weigh down their hair, it doesn't contain chemicals, and it is kind on skin that suffers from ezcema and psoriasis. We're also happy to see that it comes in two scents: original and lemongrass.
Ingredients: Artesian Spring Water, Wildcrafted Soap Nut, Makrut Lime, Elephant Apple, Wildcrafted Indian-Laurel Leaf, Pineapple, Lactobacillus casei, Rhodopseudomonas palustris, Saccharomyces cerevisiae
Allergy Friendly Shampoo
Naturally Free is a brand we love on our website. It seems odd to say, but it is impressive to list all the things the brand doesn't use. It is vegan and free from coconuts, tree nuts, shea, argan, sesame, dairy, gluten, and soy. If you are wondering what ingredients are left to make a shampoo out of, this shampoo is sunflower based.
This coconut-free shampoo has a light watermelon scent, but the peppermint will make itself known during application. It is a lovely combination for your nose and more importantly your hair.
Ingredients: Water, Sunflowerate Betaine, Cucumber, Meadowfoam, Tea Tree, Rosemary, Peppermint, Panthenol, Watermelon, Vitamin A, C, D, E, K
Plant-based Vegan Shampoo
A unique ingredient in this coconut-free shampoo is the Wildcrafted Amla Fruit, which is also known as Indian gooseberry. This fruit is a source of antioxidants and nutrients. As a bonus, studies suggest that it may prevent hair loss.
Pectolite, LLC, offers a coconut-free shampoo in three sizes: 2, 10, or 20 Oz. If you want a specific scent for your shampoo, feel free to mix in a few drops of your favorite essential oil before use.
Ingredients: Artesian Spring Water, Wildcrafted Soap Nut, Makrut Lime, Elephant Apple, Wildcrafted Indian-Laurel Leaf, Wildcrafted Amla Fruit, Pineapple, Lactobacillus casei, Rhodopseudomonas palustris, Saccharomyces cerevisiae
Go Solid Instead of Liquid
Instead of using coconut oil, this shampoo bar uses many heavy hitters like olive oil, cocoa butter, and castor oil.
It is a bit of a learning curve to get used to shampoo bars. You'll be amazed to see how long it lasts you as well. Remember to only apply it to your roots and find a nice apple cider vinegar rinse to follow. If you have psoriasis on your scalp, the rinse may relieve symptoms as well.
Ingredients: Organic cocoa butter, castor oil, avocado oil, organic jojoba oil, organic sunflower oil, mango butter, kokum butter and apricot kernel oil. Pure essential oils of eucalyptus and cypress.
DIY Coconut-free Shampoo
This is the most adventerous recommendation in this article. To make shampoo out of this powder, you add hot water to 3-5tsp of the powder. Let it soak for 30 minutes to 24 hours. Add in some essential oils if you'd like to make it smell less earthy. Apply it to your hair and scalp, keeping it out of your eyes, and wash your hair thoroughly.
Made in India, this product is 100% natural and doesn't contain chemicals nor preservatives.
Ingredients: Amla fruit powder, Reetha fruit powder, Shikakai fruit pod powder, Methidana powder
Dry Shampoo for Between Washes
Some people listen to their body to know when they're hungry and how much to eat. Try listening to your hair to know how often to wash it. Many people can wash their hair every day whereas others can do it every two to three days. Use dry shampoo between washes to keep your hair looking fresh.
If you know you're going to wash your hair in a day or two, apply Captain Blankenship Refersh Dry Shampoo with a makeup brush on to your roots. Some people wait until their hair is already greasy to apply dry shampoo, but end up making their hair look worse. The trick is to apply the dry shampoo on to dry clean hair as a preventative measure.
Ingredients: Maranta Arundinacea Root Powder, Kaolin, Sodium Bicarbonate, Silica, Lactobacillus Ferment, Sea Silt, Pelargonium Graveolens Flower Oil, Cymbogon Martinii Oil
3 Coconut-free Shampoos that Contain Palm
As a general rule on our site, we do not recommend products that contain palm or its derivatives. However if you do not have a palm allergy or sensitivity, there are some coconut-free shampoos available to you.
A Gentle Citrus Shampoo
Using a palm-derived glycerin, this is one of the most popular coconut-free shampoos on the market. It can be used daily, is gentle to hair, and does not leave behind any film.
Ingredients: Aqua (Infusion Of Aloe Barbadensis Leaf Juice), Laminaria Japonica Extract, Glycerin, Urtica Dioica (Nettle) Extract, Pyrus Malus (Apple) Flower Extract, Citrus Aurantifolia (Lime) Peel, Citrus Grandis (Grapefruit) Fruit Extract, Citrus Aurantium Dulcis (Orange) Fruit Extract, Citric Acid, Simmondsia Chinensis (Jojoba) Seed Oil, Lecithin, Calcium Pantothenate, Aloe Barbadensis Leaf Extract, Citrus Aurantium Dulcis (Sweet Orange) Flower Oil, Potassium Sorbate.
An Aloe Vera Shampoo
Morrocco Method's shampoo is a concentrated formula that is raw, vegan, paleo, sulfate-free, gluten-free and non-foaming. One of the main ingredients is aloe vera, which moisturizes and conditions as you wash your hair. According to their website, their vegetable glycerin is made from palm.
Since the shampoo is so concentrated, it is recommended that before use, water it down to a 1:1 ratio. This will facilitate application and as a bonus make the bottle last even longer for you.
Ingredients: Aqua (Water), Saponins (Green Tea), Acetic Acid (Raw Apple Cider Vinegar), Aloe Barbadensis (Aloe Vera) Leaf Juice, Montmorillonite, Urtica Dioica (Nettle) Leaf Extract, Xanthan Gum, Cannabis Sativa (Hemp) Seed Oil, Linum Usitatissimum (Flax) Seed Oil, Helianthus Annuus (Sunflower) Seed Oil, Opuntia Ficus-Indica (Prickly Pear) Extract, Phenylpropanol, Salicylic Acid (White Willow), Tocotrienols (Vitamin E), Gaultheria Procumbens (Wintergreen) Leaf Oil, Salvia Sclarea (Clary Sage) Oil, Rosmarinus Officinalis (Rosemary) Leaf Oil, Glycerin (Vegetable), Maris Sal (Sea Salt), Citrus Aurantium Amara Fruit Extract, Citrus Sinensis Peel Extract, Citrus Reticulata Fruit Extracts, Lactic Acid, Ascorbic Acid, Citric Acid
Cocoa Butter Shampoo
This shampoo uses cocoa butter to nourish and repair hair. It cleans your hair and is kind to your scalp. Many users rave that it has successfully treated their dandruff woes.
Helpful tip: Be sure to give it a good shake to mix all the ingredients together before applying it.
Ingredients: Water, Theobromo cocoa (Cocoa) Seed Butter, Potash (Plantain Skins, Cocoa Pods, Shea Tree Bark), Elaeis guineensis (Palm Oil), Cymboogon citratus (lemongrass), Lavandula Angustifolia ( Lavender) Oil, Mentha spicata (Spearmint) oil
Begin a Coconut-free Self Care Regime
Looking for more hair products without coconut? Check out our Comprehensive List of Hair Products without Coconut Derivatives. You'll find more shampoo recommendations and everything else you could use on your locks.
Also check out our article 7 Coconut-free Face Washes for Sensitive Skin